Hammond Sports Hall of Fame
The Class of 2005 Inductees

Banks


Callahan


Deak

Gapen

Hall

Sartini

Strabavy

Tapper

Urbanczyk

Vaznonis

Voris
---
The inductees:

| | |
| --- | --- |
| Colorado resident A Hammond High basketball standout, he was all-conference and 2nd team all-state as a senior in 1975. The flashy guard went on to star at the University of Nebraska, where he was a 3-year starter, all-Big Eight ('78) selection and a member of the Cornhuskers' 1,000-Point Club, finishing his career with 1,150 points. A 10.5 points per game scorer in college, he averaged 14 points a contest as a junior. He also played professionally in Australia. He was inducted into the Nebraska Basketball Hall of Fame. He is employed as a Walgreen's store manager in Aurora, Colo. | |
---
(DeMotte resident)
This multi-sport 1973 Hammond Tech graduate went on to achieve success as an amateur and professional boxer. He was the Indiana Super Welterweight champ (1986-90) and climbed to the No. 9 world ranking of the International Boxing Federation. He also fought for the IBF world title in 1987, the British Commonwealth title in '88 and the IBF Regional World Championship in '94. After retiring from the ring, he has remained active in his sport as a coach, trainer and referee. He also is employed as a firefighter.

---
KARL DEAK
(Schererville resident)
He coached Hammond High wrestlers as an assistant and head coach for three decades (1960-90). As a 25-year head coach, he directed the Wildcats to a 203-96-6 dual meet record plus 10 conference and 10 sectional championships. He also coached seven individual state champions and 25 state qualifiers. While he served as an assistant to 2001 Hammond Sports Hall of Fame inductee Don Clark, Hammond High won team state championships in '62 and '63. He also was inducted into the Indiana Wrestling Hall of Fame in 1994. The 1954 East Chicago Roosevelt graduate was a high school wrestling state finalist his senior year and also competed in college (Colorado State). He is retired.

---
(Falls Church, VA resident)
This 1986 Bishop Noll alumna starred in volleyball and track & field in high school. On the volleyball court, she earned high school all-conference honors. She continued her career at Valparaiso University, where she was a 4-year letter winner as an outside and middle hitter and gained academic all-conference recognition. In track & field at Noll, she set the school long jump record and earned a sectional title. She is employed as a math tutor.
---
(Bowling Green, KY resident)
Over a 19-year period during the 1970s, '80s and early 90s, he served as head coach of Hammond High (8 years) and Morton (11 years) football teams. His squads won five Indiana Lake Shore Conference titles ('77, '78, '79, '80 and '87). Two of his Hammond High teams ('78 and '80) compiled unbeaten regular season records. He also led his teams to sectional and regional titles. Six times, he was named Indiana Lake Shore Conference Coach of the Year. Overall, his teams compiled a 120-70 record. He coached 14 1st team all-state players. He is a member of the Indiana Football Hall of Fame. He is retired.

---
(Clarksville, IN resident)
This 3-sport Hammond Tech standout and 1949 graduate went on to star in football in college as a pass-catching tight end. At the University of Louisville—where he was a teammate of legendary quarterback Johnny Unitas—he set 3 school reception records. His 94-yard touchdown catch remains a university mark. At Tech, he also played basketball and ran track. Following his graduation from the U of Louisville in '57, he embarked on an outstanding high school coaching career in Louisville and, since 1971, at Our Lady of Providence in Clarksville, where his teams are 233-128. He has been inducted into the Indiana Football Hall of Fame.

---
| | |
| --- | --- |
| (Hammond resident) An outstanding baseball pitcher, this 1987 Bishop Noll graduate earned first team all-state ('87), all-Indiana Lake Shore Conference ('86 & '87) and all-area honors by The Times and Post-Tribune. He also was named Player of the Year in the ILSC and was selected to the Indiana North all-star team ('87). During his 3-year Noll varsity career, he compiled a 17-2 record. Following high school, he was selected by the Toronto Blue Jays in the '87 Major League Amateur Baseball Draft. Instead, he went on to play at Triton Community College, where he was all-conference ('89) and set a school record for lowest earned run average (1.12). He completed his college career at Southern Illinois University, helping hurl SIU to the Missouri Valley Conference Tournament title ('90). He is employed as a Hammond police officer. | |
---
(Hammond resident) A standout football player at Hammond High (Class of 1946), he went on to star in college as a southpaw passer at the University of Chattanooga. There, he was co-captain and earned Little All America honors ('49). Any plans of a pro career ended when, after graduating from college in '50, he was drafted into the army at the time of the Korean War. When he returned home, he eventually became president of Calumet Federal Savings and Loan. He is retired.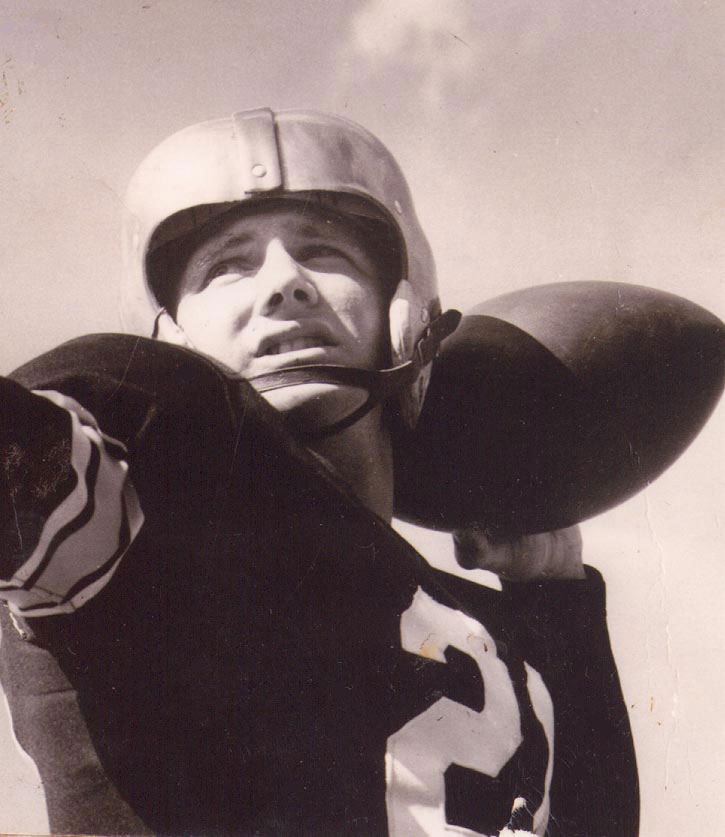 ---
| | |
| --- | --- |
| (Schererville, resident) He starred in basketball and baseball for Hammond Tech during the 1950s. On the basketball court, this '57 graduate earned all-conference, all-county and Chicago Tribune all-star honors as a forward/center. He averaged 17 and 16 points per game, respectively, his senior and junior seasons and also set a Tech single season scoring record during the '56-57 campaign. He went on to play in college at St. Ambrose. On the baseball diamond, he helped pitch the Tigers to back-to-back Northwest Indiana Conference Western Division titles in '56 and '57, compiling an 11-0 record and earning Chicago Tribune all-star recognition. He is employed as a deputy clerk for the Lake County Clerk's office. | |
---
(Valparaiso resident)
This 1970s baseball and basketball standout at Gavit and Purdue University Calumet earned all-Indiana Lake Shore Conference honors at Gavit as a basketball forward and baseball center fielder before graduating in '73. His 26 rebounds vs. Munster in '71 set a school record. At Purdue Calumet, he was a 4-time all-Chicagoland Collegiate Athletic Conference selection in baseball ('74-'77), 3-time Purdue Calumet MVP and led the CCAC in batting in '75 with a .548 average. The '77 alumnus was selected for 'Outstanding College Athletes of America' in '75. He teaches and coaches in the Lake Ridge School System.

---
(deceased)
Small in stature, but huge in heart, pound for pound this 1957 Hammond High graduate was one of the toughest linebackers and running backs to ever wear a purple and white jersey. After earning all-state honors as a linebacker in '57, he received a football scholarship to attend Western New Mexico University. There he played for 4 seasons and was team co-captain in '61. He played professionally one season in the Canadian Football League for Montreal. He also ran track in high school and college. After his playing days, he coached high school football and wrestling for 35 years in California, where he earned several Teacher of the Year honors. He is deceased.

This Site Is Maintained By
City of Hammond employees.
Copyright 2005