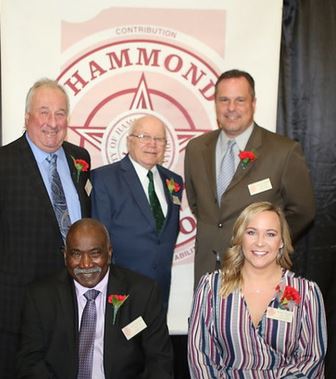 Hammond Sports Hall of Fame Inducts Six Athletes March 10, 2020
The Hammond Sports Hall of Fame honored six individuals from the city's proud athletic past during its annual induction dinner program, Tuesday, March 10 at the Hammond Civic Center.

Also, in this 100th anniversary year of the establishment of the American Professional Football Association—subsequently, renamed the National Football League in 1922—the Hammond Sports Hall of Fame paid homage to the Hammond Pros, a 1920 APFA/NFL charter member.

This year's Hall of Fame inductees are:
Richard Barnes, 1950s/60s Hammond High and Drake University track sprinter;
James (Chief) Brown, 30-year Hammond High boys track & field coach;
Jack Gabor, Bishop Noll boys basketball & baseball coach;
Brittany Piaseczny, Clark 2000s 3-sporter and Purdue North Central volleyball standout;
Robert Prymuski, 1940s Hammond High & University of Illinois football lineman;
David R. Snedden, 1980s Morton 3-sporter and Indiana University baseball MVP.